Please follow and like us:
Current Affairs-February 18, 2017
1-Hyderabad: Priyanka Gandhi Vadra"s son Raihan today underwent treatment at the LV Prasad Eye Institute here.
2-New Delhi: An Innova car rented by Union Road Transport Minister Nitin Gadkari"s additional personal secretary was stolen from outside his Lutyens" Delhi house at Pandara Road.
3-New Delhi: Army chief General 

today visited injured CRPF Commanding Officer Chetan Kumar Cheetah and enquired about his health at the AIIMS Trauma Centre here.
4-Admiral Sunil Lanba, Chief of the Naval Staff today paid homage to soldiers, airmen and sailors by laying wreath at "Shaheed Smarak" in Noida.
5-Mumbai: The outbreak of Monkey Fever has claimed two lives in Sindhudurg district of Maharashtra this month, despite the administration undertaking largescale vaccination drives to prevent the infection.
6-Chennai: Torn shirts of Speaker P Dhanapal and Leader of Opposition M K Stalin, toppled chairs, strewn paper pieces and displacement of mikes bore testimony to a virtual war-like situation in the Tamil Nadu Assembly today.
7-Chandigarh: Haryana"s Tourism Department has prepared a "Tirath Darshan" scheme under which senior citizens above 60 years of age would be able to visit various religious places, state tourism minister Ram Bilas Sharma said today.
8-New Delhi: A total of 189 crorepati candidates are in fray for the fourth phase of Uttar Pradesh assembly elections to be held on February 23, while 116 have declared criminal cases against themselves, as per a latest report.
9-Chennai: The O Panneerselvam camp has appointed sitting MLA Semmalai as the party whip and sent a letter to the Assembly Speaker P Dhanapal to this effect.
10-Jammu: Syed Basharat Bukhari today resigned from the Cabinet of Mehbooba Mufti soon after he was shifted from high profile Revenue, Relief, Rehabilitation and Reconstruction Ministry to Horticulture department.
11-Islamabad:Mumbai attack mastermind and JuD chief Hafiz Saeed, who is under house arrest, has been listed under Pakistan"s anti-terrorism act, a tacit acknowledgement of his links to militancy.
12-Dubai: Two of US President Donald Trump"s sons are in the United Arab Emirates for an invitation-only ceremony to open the Trump International Golf Club in Dubai.
13-Islamabad: The much-awaited landmark bill to regulate marriages of minority Hindus in Pakistan is set to become a law with the Senate unanimously passing it.
14-Panaji: In a move aimed at boosting the regional connectivity across India, the Union Civil Aviation ministry today said that 43 unused airports would be operationalised within a year.
15-Dhaka: The first container ship from India has arrived in Bangladesh"s Panagon river port here under the Coastal Shipping Agreement signed in 2015, allowing direct cargo vessel movement between the two countries.
16-New Delhi:CM Arvind Kejriwal was told to appear on March 21 before a Delhi court which granted him exemption from personal appearance for the day in a DDCA's criminal defamation case.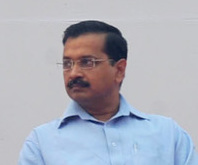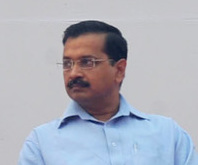 Arvind Kejriwal
17-New Delhi: Munshi Premchand changed the course of literature in Hindi and Urdu with his "modern perspective" and simple expressions, according to his grandson Alok Rai.
18-Los Angeles: Bangladeshi filmmaker Mostofa Sarwar Farooki"s "No Bed of Roses", starring and co-produced by Indian actor Irrfan Khan, has been effectively banned in Bangladesh.
19-Mumbai: Amitabh Bachchan along with wife Jaya, Salman Khan, Iulia Vantur and Katrina Kaif were among attendees at the wedding reception of Neil Nitin Mukesh here.
20-Mumbai: Melody Queen Lata Mangeshkar has been honoured with the "Legendary Award" by Brand Laureate.
21-Los Angeles: The television rights of the documentary made on the life of legendary singer-actor David Bowie have been sold officially.
22-New Delhi: R P Shah, one of the three General Managers of BCCI, today resigned from his post citing his age as a "reason".
23-New Delhi: The Indian Women"s team today won a silver at the Asian Rugby Sevens Trophy held at Vientiane, Laos.
24-Adelaide: Aditi Ashok suffered a nightmarish four-hole streak in blustery conditions with four bogeys between sixth and ninth holes on the front as she carded five-over 78 in the third round of the ISPS Handa Women"s Australian Open at Royal Adelaide Golf Club.
Please follow and like us: